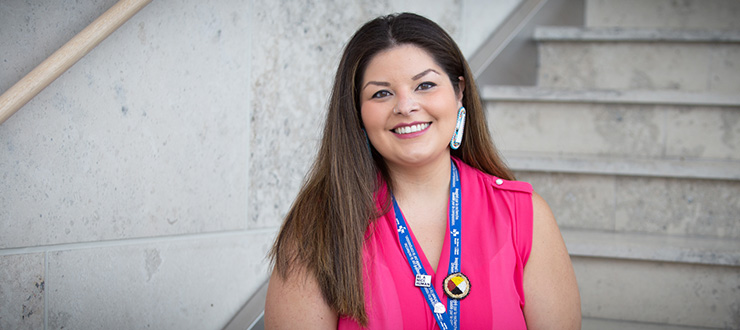 Everyone deserves to feel a sense of belonging where they work, which is made so much easier when you feel a connection with others.
This is exactly the goal of The Ottawa Hospital's Indigenous Employee Network (IEN). Created in October 2021, the IEN's ongoing goal is to create a safe space for self-declared First Nations, Inuit and Métis employees at The Ottawa Hospital and their allies to connect, share experiences, and celebrate Indigenous culture.
The following is a conversation with IEN Lead, Mackenzie Daybutch.
Tell us a little bit about yourself and what made you decide to create the IEN
I am Ojibway from Mississauga First Nation #8 in North-Eastern Ontario, where I am a status band member, Bear Clan, and inter-generational residential school survivor. I am passionate about health care and advocating for social justice and equitable services for Indigenous Peoples.
I work as the Program Coordinator for the Regional Indigenous Cancer Program. I really hope that one day all Indigenous and marginalized folks will experience a place of belonging within the medical sector. This network for hospital employees is one way I help work toward that vision.
How would you describe the Indigenous Employee Network at The Ottawa Hospital?
The IEN is a sacred space where Indigenous hospital employees and allies can connect. When you come here, you know that there are people like you, people who support you, and people who value your traditional knowledge. It's definitely not a working group where we check off items on an agenda. It's a connection group.
We meet for one hour once per month and we make decisions together.
The IEN was initiated as part of the work of the Diversity and Inclusion Council at The Ottawa Hospital. Engagement is a core pillar of the hospital's Diversity and Inclusion strategy, and the formation of employee groups like the IEN helps build a sense of belonging and safety.
Who is the Indigenous Employee Network for?
The IEN is for self-identifying Indigenous employees of the hospital and their allies. No one ever needs to disclose their cultural background unless they choose to. There are people like me, who moved off reserve, and people who have never lived on reserve. Still others are just beginning to reconnect with their Indigenous culture.
The allies in the group are also diverse and represent many cultures and roles in the hospital.
Right now we have 25 members, and the vast majority are non-Indigenous allies. Eventually we would like to have an equal number of Indigenous members and non-Indigenous members.
Why is it important for something like this to exist within our hospital – or any hospital for that matter?
There is a dark history between the Canadian health-care system and Indigenous Peoples. For example, it's not so long ago that ill Indigenous Peoples were taken to Indian hospitals and experimented on. So, working at a hospital can be an intimidating experience for an Indigenous person. They come here with all that trauma and history.
As a health-care provider who is also Indigenous, it can also feel like you are walking in two worlds. One foot is in traditional medicine and the other is in western medicine. So being part of the network can feel comforting because you know you aren't the only one feeling that way.
I think it's important for all hospitals to have groups or networks dedicated to marginalized people, whether it's Indigenous Peoples, 2SLGBTQ+ people, or others. Everyone should have a place to can come together and know that they can share and receive support. No one should feel alone at work.
Will the network be a source of Indigenous education for hospital staff?
It is important for everyone to understand that it is not an Indigenous person's responsibility to educate non-Indigenous people about their culture. Learning will naturally take place in the IEN through group discussion as well as through sharing thoughts, feelings and experiences. But this is not the main purpose of the IEN and the experiences of our members are not case studies to be analyzed.
There are so many excellent educational and training resources, and if a staff member comes to us looking for them, we are happy to connect people to those resources.
Looking ahead, what kinds of events and initiatives will the network lead?
We're taking a thoughtful approach to how we grow and what initiatives we take on. As we look ahead to Indigenous People's Day on June 21, and National Day of Truth and Reconciliation on September 30, we want to be part of a celebration. Last summer felt very sombre because of the news about children's bodies discovered on the grounds of residential schools. But Indigenous People's Day is meant to be a celebration of culture, so we're really focusing on celebrating while still acknowledging the trauma and history.
What impact do you hope this network will have at the hospital?
I hope that Indigenous staff feel welcomed at The Ottawa Hospital and know that there is a group there to support and listen to them. I hope that patients feel strengthened by the idea that this group seeks to make positive changes for them. Through the organic education that happens through discussion, I know that knowledge of the culture, values and history is being passed on, and I hope that this network contributes to each member's ability to provide compassionate care to all patients.
Can I join the IEN?
The IEN is always happy to welcome more members. Interested hospital employees can contact Mackenzie at mdaybutch@toh.ca.
More about Mackenzie
Mackenzie Daybutch works at The Ottawa Hospital as the Program Coordinator for the Regional Indigenous Cancer Program. She has diplomas in Social Services, Child and Youth Counselling and Indigenous Studies. Her work experience involves child welfare, education, case management and crisis intervention in the non-profit and residential sectors.

Support patient care and research at
The Ottawa Hospital
You might also like…
This website gives you common facts, advice and tips. Some of it may not apply to you. Please talk to your doctor, nurse or other health-care team member to see if this information will work for you. They can also answer your questions and concerns.