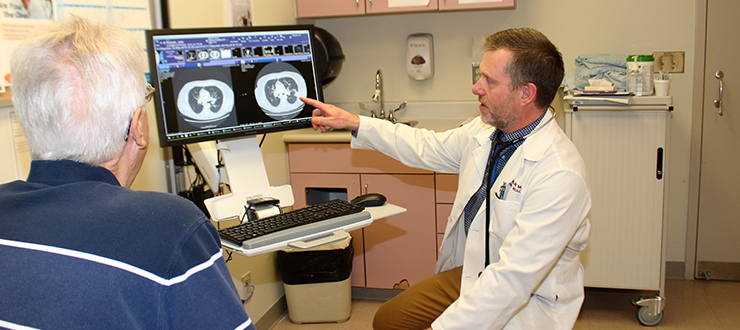 Medical oncologist Dr. Neil Reaume (right) is now able to easily show patients, such as John Richichi, the results of their medical imaging tests right in the exam room, leading to better discussions during appointments.
Dr. Neil Reaume walked into the exam room, greeted patient John Richichi, and tapped his ID badge against a small black box near the computer screen. Up popped the lung CAT scan results that he was just reviewing on the core clinic computer before coming into the clinic room to see the patient.
"Your scan shows this spot, which might be pneumonia," said Dr. Reaume, a medical oncologist.
Thanks to this innovative new 'follow-me computing' system, doctors in The Ottawa Hospital's Cancer Centre can spend more quality time with patients during their visits and can easily show and discuss medical imaging test results, bloodwork results, and their complete medical history right in the clinic room. Paper charts are no longer required to view recent results.
"It's neat," said Richichi, who has been a Cancer Centre patient since 2009 when he was diagnosed with kidney cancer, which has since spread to his brain and lungs. "It's interesting to see visual pictures of what I have inside of me."
Before the new system was installed, each time doctors moved from one computer to another, they had to log in to multiple systems, which ate up the valuable patient appointment time. With nearly 100,000 visits a year, oncologists don't have time to log into computers in each exam room and then log into vOacis, WebPacs, Mosaiq, Opis and other clinical computer systems they need.
Doctors review patient charts and test results on a computer in the core area of the clinic before seeing the patient. When Dr. Neil Reaume walks into the clinic room with the patient, he taps his badge against a small black box and up pops whatever he was just viewing on the core computer. "I was a hero when my patient asked about test results and, boom, I tapped in and there they were," said Dr. Reaume.
After reviewing the patient's symptoms, Dr. Reaume quickly opened the bloodwork results from that morning (showing no signs of infection) and checked to see if Richichi had seen a respirologist at the hospital. Before this new system, Dr. Reaume would have had to leave the clinic room to get that information.
"We're more likely to show test results to patients now because it's so much easier. A picture is worth a thousand words," said Dr. Reaume.
"Instant access to the most up-to-date patient information isn't just a 'nice to have' for our health-care providers," said Paula Doering, Vice-President of the Regional Cancer Program. "We need it to achieve our vision of providing the world-class, high-quality, timely care we would want for our own loved ones."
Other staff members are also seeing the benefits of the new system:
"Having the bone scan images easily available in the exam room made deciding what needed to be treated easier for both myself and the patient," said Dr. Robert MacRae.
"I can order prescriptions while in the room with the patient discussing their symptoms," said Dr. Michael Vickers.
"Having this technology in the exam rooms allows nurses to document vital signs, assessments, and interventions in real time," said Clinical Manager Kate Duke. "Our nurses are excited to be part of leading the technology change in health care."
The technology is called Virtual Desktop Infrastructure (VDI) with Single-Sign-On (SSO) and has been around in the industry for some time. The system is a taste of what's to come when The Ottawa Hospital launches the Epic digital health system in June 2019.
"The Cancer Centre had an urgent need to access patient records in the exam room, so we became an early adopter," said Dr. Michael Fung-Kee-Fung, who is leading Cancer Transformation. "Transformation is driven by enabling people, processes, and technology. So, it was natural for us to get involved."
"It also eliminates the need for portable devices like iPads, which are hard to keep clean in exam rooms, often don't have keyboards and may not have reliable wireless connections," said Bill Davies, Quality Process Engineer, who has been managing the change. "A VDI computer terminal can now be used by anyone with a hospital ID badge. They just tap and whatever they were working on elsewhere, displays where they are now, hence the nickname 'follow-me computing'."

Support patient care and research at
The Ottawa Hospital
You might also like…
This website gives you common facts, advice and tips. Some of it may not apply to you. Please talk to your doctor, nurse or other health-care team member to see if this information will work for you. They can also answer your questions and concerns.