Getting Here By Car
Please select a campus to view the location on a map. Directions by car are accessible within the map (Click 'Get Directions').
Parking
Where do I park at The Ottawa Hospital Cancer Centre – General Campus?
Parking for patients coming to The Ottawa Hospital Cancer Centre will be in the Critical Care Tower parking lot (right beside the Cancer Centre).
Where do I park at the Irving Greenberg Family Cancer Centre?
Parking for patients coming to appointments at the IGFCC (Queensway Carleton Hospital) is located in front of the main entrance to the Cancer Centre.
How much does parking cost?
Unfortunately, there is no free parking on the hospital site. Please note that all money received from parking fees is used to buy medical equipment and build new patient-care centres.
There are several paid parking options. To choose the best option for you, please ask a member of your health-care team.
Please note—these prices are subject to change.
| | | |
| --- | --- | --- |
| | The Ottawa Hospital Cancer Centre – General Campus | Irving Greenberg Family Cancer Centre |
| Daily Pass | $13.00 | $14.00 |
| Weekly Pass | $42.25 | $50 |
| Monthly Pass | $92 | $105 |
| Frequent User Pass | $105 | |
The Frequent User Pass will remain active until you have made 15 visits in our parking system.
Note—daily and frequent user passes allow for in and out privileges at both Queensway Carleton Hospital and The Ottawa Hospital sites. Weekly and monthly passes do not include access to QCH. If using a daily pass, it is important that you obtain and keep your receipt which proves you have paid the daily maximum in case you need to access the The Ottawa Hospital or Queensway Carleton Hospital that same day.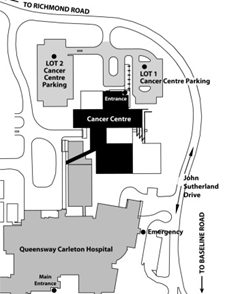 How do I pay for my parking?
All parking operations are automated. Take the parking ticket with you inside. When you leave after your appointment you may pay at one of our Automated Pay Stations. You may use cash or credit card (machines do not accept debit cards—but ATMs are on site). You can also pay at any of the exits in the lots with your Credit Card.
Where can I get a parking pass?
You can buy the parking pass at the following locations:
General Campus: Cashier (Main Level) or the Security and Parking office on the 2nd level.
Queensway Carleton Hospital: Security office. All Security and Parking offices operate 24 hours a day.
If I have a parking question who can I contact?
For parking information, help or assistance please contact:
The Ottawa Hospital: 613-798-5555 ext. 14888
Queensway Carleton Hospital: 613-721-4700 ext. 2679
Transportation
If you need help getting to the Cancer Centre the following may be options for you:
Canadian Cancer Society has a volunteer driver program. Volunteers may be able to provide you with a free drive to the Cancer Centre. Call the Canadian Cancer Society at 1-888-939-3333 or visit www.cancer.ca  for more information and to find the local office to best meet your needs.
Home Support Programs may be able to provide a ride. There is a fee. Check with the program in your community. Connect with the Community Care Access Centre for more information on home support programs.
Ontario Works or Ontario Disability Support Program (ODSP)
If you are connected with Ontario Works or ODSP, contact your Case Manager—they may be able to provide financial help for transportation.
For Ottawa only:
Para Transpo provides rides for people with disabilities who cannot get on and off the city bus. For more information, contact Para Transpo at 613-244-1289. A doctor's signature is required to access this service.
If transportation to and from the Cancer Centre remains a problem, more information is available through
the Navigating Cancer Care information session offered by the Psychosocial Oncology Program.
For more information, please call at 613-737-7700, ext. 70516 (General Campus) or ext. 25200 (IGFCC).
Travelling to and from your treatments may be difficult.  Here are some ways to get to your medical appointments and/or treatment.
The Canadian Cancer Society provides volunteer drivers for people receiving treatment or attending medical appointments, a minimum of 48 hours notice is required.  Contact your local Canadian Cancer Society office to register or for more information.  Toll free: 1-888-939-3333
OC Transpo provides public transportation to the Cancer Centre.
Visit the OC Transpo website for more information on the cost and for travel planning:
Para Transpo is a door-to-door transportation service for persons with disabilities who are unable to use conventional transit services.  It is funded by the City of Ottawa and administered by OCTranspo.
Para Transpo provides transportation within the urban and rural areas of the City of Ottawa and to the Hull sector of Gatineau.  Van services and sedan services are provided.
Application must be completed and sent for approval to Para Transpo
The Taxi Coupon Program allows Para Transpo customers to take discounted taxi service as an alternative to Para Transpo. You can book your trip – at your convenience, with participating Ottawa taxi companies and save 40% off the regular taxi fare.
Visit the Para Transpo website for more information: http://www.octranspo1.com/accessibility/para_transpo
Some community agencies also provide transportation to medical appointments.  A fee is charged for the services.  You can consult the Homemaking and Personal Care Resources for more information on the various agencies providing this service.  You can also consult the yellow pages in your community for more information.
The Ottawa Community Support Coalition (OCSC):
OCSC consists of 20 organizations mandated to provide home-based community support services to seniors and adults with physical disabilities. These agencies provide an efficient, accountable, consistent and coordinated range of community support services designed to meet the needs of individuals living in their community.
Last updated on: February 5th, 2021